Apartment in Klosters: Hus am Golfplatz
Other summer activities
The Davos Klosters Active programme includes over 70 different activities of all kinds: Sport & Adventure, Kids & Family, Art & Culture, Sightseeing and Excursions.
Click here http://www.davos.ch/en/summer/activities/davos-klosters-active/ or pick up a brochure at the Tourist Office for more information.
Most of the activities are free or discounted with your Guest Card.
Return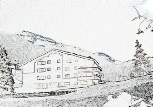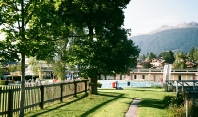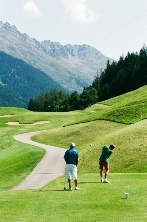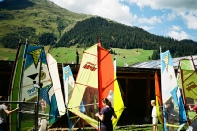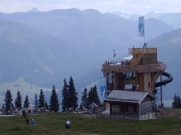 In addition to walking and cycling, there are many other things to do in the Davos Klosters region in summer.
Swimming and water sports: In Klosters there is the Lido, a family-friendly open-air pool with fun features, and a small lake alongside where pedalo boats can be hired. There is a larger indoor pool, Eau La La, in Davos (with outdoor jacuzzi), and open-air swimming in the lake, where sailing and windsurfing are also available.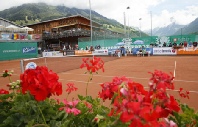 Tennis: There are 6 outdoor clay courts in Klosters, and 3 indoor courts in the new Arena.
Golf: The 9-hole course surrounding our house (par 62) has tees with spectacular views and buggies are included in the fee! You can practise your shots on the driving range, or sign up for short courses and tuition at the Golf Academy with the resident pros. There is also an 18-hole course in Davos, and several other courses in the area.
Children will love Madrisaland, an adventure park based on local myths and legends. There is also an interesting "natural history" walk here, with information about herbs, geological activity and traces of early lime kilns. Many of the walks on the Madrisa are ideal for all the family, and you can round off with an ice-cream from the dairy.
With opportunities for paragliding and horse or mule trekking, secluded barbecue spots with everything provided but your food and some matches, excursions by minibus to the Vereina mountain hut (starting point for several longer hikes), and horse-drawn carriage rides, there are activities to suit everyone.